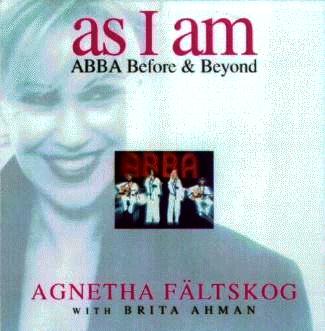 From her early career when she topped the Swedish charts at the age of 17 to her marriage to Björn Ulvaeus, the ABBA phenomenon, her solo career and stepping out of the limelight, Agnetha Fältskog tells her own story and sets the record straight.
``When myths develop about you - such as attempts by the press to portray me as another Garbo - it can be dangerous. People get the impression that you have closed all doors and lost interest in everything. Well, I haven't closed any doors - not to myself, new ideas, new opportunities or my own music.''
---



Som jag är was released in the fall of 1996 following a decision that Agnetha wanted to set the record straight once and for all. Tired of the press hounding her and misquoting her and after the release of a controversial book stating that Agnetha and Frida were enemies she decided to resume work on a book that she had decided not to release back in 1983. Written with the help of journalist Brita Åhman it explains the truth of how Agnetha felt in the past and how she looks toward the future with promise.

The English translation As I Am - ABBA: Before and Beyond, was released on October 16, 1997 by Virgin Publishing, UK. It features a larger format than the Swedish edition with many beautiful full-color photographs and is a direct translation from Swedish, done by Brita Åhman with Agnetha's supervision. London Bridge Trade is handling its distribution in North America.
---
``Super Trouper''
Knowing me knowing you: Agnetha on...
with a few excerpts from As I Am
14 September 1997