Against the wall: Agnetha Fältskog
Will you get disappointed if your album sells less copies than Frida's?
"I will be sad if my solo-LP becomes a flop. But I won't compare my sales figures with either ABBA's or Frida's. We don't envy each other's success, instead we're happy for each other."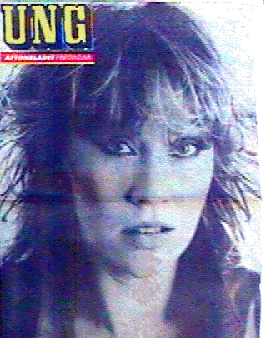 On May 30 your first solo-LP in many years, "Wrap Your Arms Around Me", is released and the single is "The Heat Is On". Is it different from what you recorded earlier?
"There's a big difference from what I've recorded earlier as a solo artist, earlier my sound was more "nice" (I'm still a nice person though). The LP "Wrap Your Arms Around Me" is playful and positive. I felt more free because I didn't have to take other's views into consideration or compromise like you have to in a group."
Why is your hair tousled?
"You have to perform and present the songs so that it's similar to the feeling of the music."
Frida and you have solo careers, Björn and Benny are writing a musical. Is the ABBA-era over?
"We haven't had a meeting and clubbed with a gavel and said we're going to quit. We all think it's great that we do some other things but I hope that we'll record something as ABBA again."
What do you want to convey with your record?
"There are a couple of main threads. There should be good and melodic songs, a positive spirit. Not only tragic ballads about someone who broke up with you and it's difficult to go on. There's still such a song on the album, "Once Burned, Twice Shy"."
Is it still as exciting today as it was when you entered the Svensktoppen-chart?
"I don't know. In a way I've gotten used to it and I think in a different way as a 33 year old than as an 18 year old. I don't want to sound jaded but you get spoilt when things have gone very well. But I'm incredibly eager to see and hear what others will think of it, even if I myself is very tired of it but that's because I haven't achieved a different perspective of it yet."
Now you're going to tour through Europe to give interviews and do TV-shows. Isn't it enough to let the music speak for itself?
"I don't have anything against traveling to talk about my music if it's good PR."
But you're not going to the US?
"Maybe by boat since I'm extremely terrified of flying. It's possible that my fear will go away as I get older, but at the moment I don't feel like challenging fate."
Who are your favorites right now?
"Michael Jackson, Hall & Oates and as always, Donna Summer."
Will we ever get to see Agnetha Fältskog on stage again?
"I will be on stage in different TV-shows, one of them is a 50-minute show that will be taped this fall by Swedish TV. And it's possible that I sometime in the future put together a small band."
But never again a regular tour?
"I would like to but there are so many requirements that I don't like in order to go on a concert tour, for example a lot of traveling. But maybe I could go to one location and stay there for a couple of weeks and then go back home. It's also about what you're good at, I don't think I sound as good live as I do in TV and recording studios."
"Is 1983 your year, solo album and a bit later this year the movie "Raskenstam" premieres, in which you make your debut as an actress."
"1983, 1984, 1985, 1986 and so on are my years. -Joking apart, it's an exciting year but I want to wait until the year is over before I can say that it's been my year. "
Are you going to become a movie star as well?
"I'm not longing for Hollywood and life over there, I just wanted to try acting and other ways to express myself."
You don't have an education as an actress. Do you think that you would have gotten this role if you hadn't been a celebrity?
"At first I had a guilty conscience because of all those who have an education and struggle to get roles. I have a bit of an education though, all these years I've worked in the artist business have gotten me used to cameras etc.. Also, on stage you play a role, of course you give a part of yourself and your personality, but not as a private person but as an artist."
You got involved in the fight against drugs. What can a person who lives so far away from that reality do?
"To begin with, indicate my viewpoint. If you're an idol, or maybe I should say role model for some and then they read that I'm against drugs, maybe it affects them and that makes me happy. We only have one life and we should care for it."
Can you go on the subway or go out dancing?
"I'm sure I can go on the subway but I haven't done that for years. I like to go out dancing and it's fun as long as it doesn't happen too often."
You have fought against tabloids who write incorrect stories about you.
"Yes, we report all tabloids that make up lies and it seems to have produced results. Things have calmed down."
There are those who think that now that you're so well known, you can run over the press. It was different in the beginning of your career.
"It's not about running over, but I have to defend myself against lies. In the beginning when Björn and I were married, we gave interviews to certain tabloids because we thought it was fun and we didn't have a greater need for a private life. But that trust was abused and just because I agreed to it as an 18-year old, it doesn't mean that the tabloids owe me for the rest of my life. But I enjoy to talk about my work."
Isn't it boring to miss out on good things in life such as playing the lottery? You're already a millionaire.
"That's not one of the good things in life to me, I'm a more down-to-earth person. The important thing to me is simple, to be healthy. Nature, spring and smells. It sounds banal and simple but that's the way it is. Of course I'm privileged and spoilt with being able to buy some salmon every now and then and drink champagne, but it doesn't happen daily."
After your divorce from Björn Ulvaeus, you've been seeing two tough guys, a hockey player and a policeman. Do you like tough guys?
"Just because you have a so called tough occupation, it doesn't mean that you're a tough person yourself."
So soft and gentle guys interest you?
"Absolutely. Very much so."
---
By Magnus Janson
Name: Agnetha Fältskog

Age: 33

Family: Linda, 10, and Christian, 5

Lives: In a house on Lidingö

Smokes: No, I quit.

Drinks: It happens.

Income: About 500 000 kronor

Last book you've read: Ingrid Bergman's memoirs