In an exclusive interview for Året Runt, Agnetha Fältskog talks about her children, her career, the loneliness and the future.
Like an 80s version of Greta Garbo, she has isolated herself in her house on Lidingö. Haunted by rumors. But now Agnetha can reveal the choice of her life: Her career has to be put aside in favor of her children's future.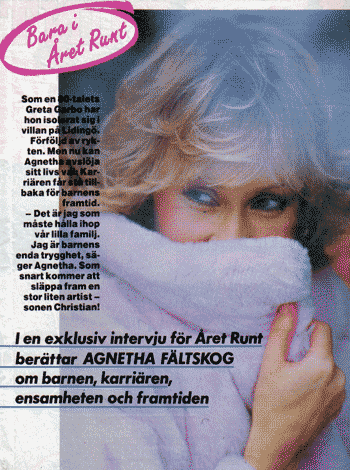 "I'm the one who must keep our little family together. I'm my children's only security, says Agnetha. Who soon will bring forth a big little artist - her son Christian!"
"Now I choose to be with my children - but I will come back better than ever" I have now made my final choice, Agnetha Fältskog says with an unmistakable, gleam of laughter in her blue-green eyes."
Continuing, we know what many of you would like to hear about. A new man. But she seriously says:
"I'm the one who must keep our little family together. I'm my children's only security. They are especially vulnerable. They are children of divorce. Children of celebrities. Their father has moved to London. So for those reasons they now must wholeheartedly come first. More and more it's clear to me how much they need me."
Agnetha says how people often say to her that she can't just stay at home like this and waste her talent. She has to get out there and continue working on her career.
"But then they don't know what they're talking about, Agnetha thinks. You have to put the choice to stay at home in a wider perspective. Children are being badly treated in our society today. They live in a tough world. How are they supposed to develop when they already in school get to hear that it's extremely uncertain if they'll be able to find a job once they're finished with their studies? There's also a housing shortage. The world on the whole is a trouble spot. Because of that the children must feel security and stability at home throughout their childhood, so that they later in life can cope with things. We simply have to get a changed perception of the value of dad or mom staying at home to take care of their children. To appreciate it more." Saying this, I can hear how many people sniff at this and say it's easy for her to say that, she has a lot of money. "Yes, I know I am very privileged. I am very grateful for that and that I now can make up for lost times with the children when they were small during the ABBA-years. It was then that they were born."
But now Agnetha thinks that it's not only the financially independent ones who should be able to stay at home to take care of their children, if they want to. She thinks that the government should intervene and make it possible for others who wish to do the same by handing out generous government grants. "It would be worth it later on, if the government could think and plan ahead," she says.
"When it comes to my career, I think it's like this: Of course I'm getting older. But if you have a talent, then it's in you. Then you supply it with something better if you work when you feel that now you're ready. And I probably will be again. Besides, I haven't quit completely."
So right now Agnetha is working on a children's album with her nine year old son Christian. Earlier she recorded a Christmas album with her daughter Linda, who today is a trendy teenage girl. Now it's Christian's turn. Agnetha and Michael Tretow are producing the album and it's being made by Agnetha's own production company, Agnetha Fältskog Produktion AB. "There won't be any TV-appearances, newspaper interviews and photos in connection with the release of the album," Agnetha says. This interview in Året Runt is the only one she'll give.
"The album will be released this spring or this fall at the latest, depending on how the work with it goes. I have already listened to about 250 songs to find the songs I want on the album. If I find one that I think is good, I play it for Christian to hear what he thinks. Christian is a very musically talented child. When he has listened to a song, he then sings it right away." Just for fun, Agnetha sometimes sings a different part (pitch) along with his melody. Next time they sing it together, it's he who suddenly sings that part. At home Christian has received a synthesizer, which he likes to play. Often he comes up with his own melodies. He is a chip of the old block...
But with your hand on your heart, Agnetha. Is it really true that you don't miss the show life, being in the center of everything sometimes? You get tremendously stimulated by this pulsating existence. Your eyes begin to sparkle - you love challenges. Isn't there a strong attraction to the showbiz world?
"Well, yeah, but you have to keep in mind for how long I've been in this business. Ever since I was 15 years old! I think it's wonderful to have experienced it all. It's nice to having been at the top and look down. To have that perspective, knowing what it is. Having reached it yourself. That is something that I wish everyone would get to experience within their field of work. To be up there, receive all the compliments, meet all the people - but also being subjected to so many things. The winds are cold up there. You're surrounded by many jealous glances and thoughts. There's also a strong, sometimes ruthless, competition. It feels good to having experienced it and actually worked my way through it."
Now Agnetha is on the other side of all this. She can enjoy being able to entirely spend her time with the children. But it's not always nice and pleasant. Sometimes she's seized by anxiety. Not afraid to fail, but instead afraid she might not have enough energy. Or to miss something since she's a single mother. In that case, she's the one who has to take the consequences. But then she persuades herself how important it is to not waste this precious time. "It'll never come back again. And you don't know what the world will look like."
"For example, what do we know about the consequences of the Chernobyl disaster? "she asks. "It's not something you can touch. It's not something you feel or see. Still, it's there, something that gets inside you, something that affects us. I'm afraid that later on some cruel facts and results will be revealed. At best nothing will happen. But it's hard for everyone to live with the uncertainty," says Agnetha. "In relation to this, it's important what kind of choices you make when it comes to the ones you love the most. To then put your career aside gets a special meaning. This is what I sometimes think of when the housework gets too monotonous. It doesn't matter how good you are at it. You don't receive praise. However, you do if you've done a great performance on stage or with an album, then there's certainly applause, flowers and champagne! But at home you have to be strong enough that you can live without the praise and know that on the whole, what you're doing still means a lot, but it's not easy to deal with this!"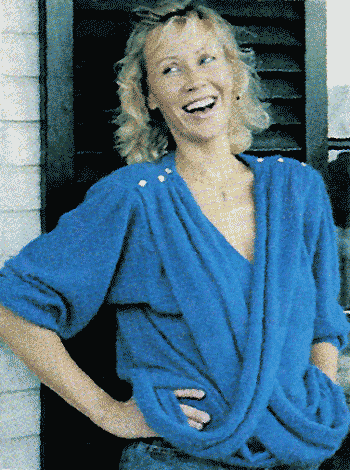 Agnetha understood that during her career years, that was her moment in time. She took advantage of the opportunity. And she's planning to come back again. But isn't it difficult to get back on top after such a long time?
Agnetha gets quiet for a while. "I haven't really thought of that, she slowly says. I've been so spoilt with success. I have never met with resistance. Whatever I've chosen to do, something has come out of it. It's been like that ever since I began singing with the "dansband" in Jönköping. Suddenly we were the most sought-after band in Småland. My first album with only my own songs entered the Svensktoppen-chart and the sales chart. During the ABBA-years, we were the most sought-after in the world. My albums after ABBA were already certified gold before they were released in stores. Yes, and then I also played a part in the movie "Raskenstam", which also was a success, just like my latest single with Ola Håkansson, which also has been certified gold. Everything has worked out well. So you see what I mean when I say that I'm spoilt. Because I am. But at the same time I'm humble and grateful. And when the time is right, I will come back better than ever."
When we start talking about what it's like to live by yourself without a man, her sense of humor shows. Now she can heartily laugh and make fun at headlines like "Alone again". On the whole, she takes those irresponsible articles about herself with a grain of salt.
"Besides, I don't think it's really true that it makes you a complete person just because you have someone by your side. The loneliness can also be very stimulating. You can sense your freedom. You are especially open to impressions and stimulation from the outside world. You're vulnerable in one way, but tremendously strong in another way. You develop accordingly as a human being and manage to do much more than you think, also in a practical way. Things you otherwise never would deal with. So you then become that woman. An independent woman. Besides, I'm not alone at all. No one who has children has to be, and I have friends and acquaintances, both old and new ones."
Interview by Brita Åhman